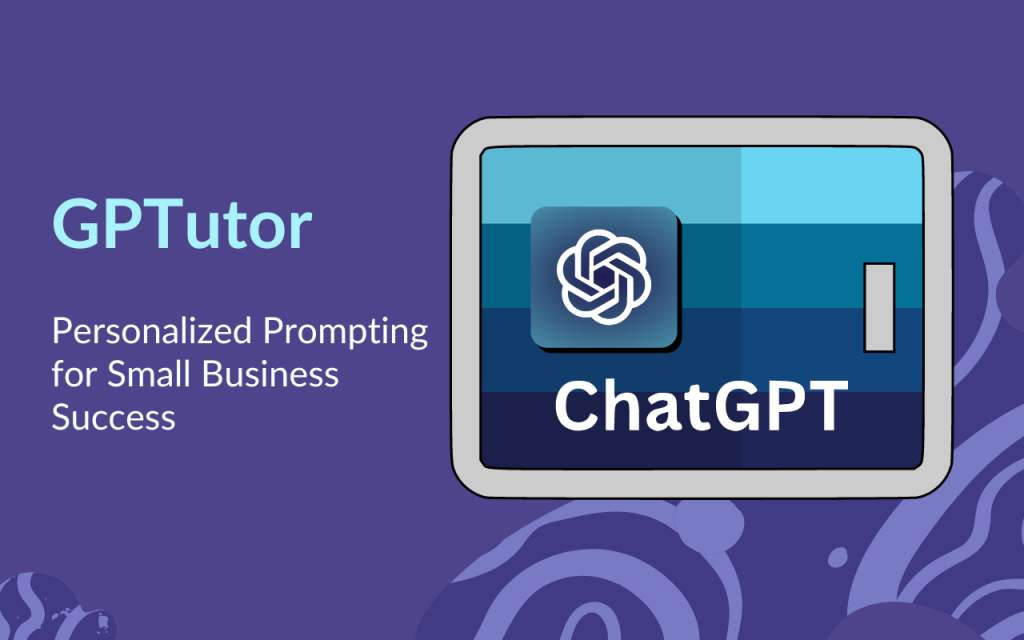 Unlock the power of AI for your small business!
If you're a small business owner, you know how time-consuming and challenging it can be to consistently produce fresh, high-quality content for your marketing. But what if you could generate customized website copy, emails, and social media posts in a fraction of the time while increasing engagement and conversions?
With ChatGPT, now you can!
ChatGPT's advanced AI can create tailored, brand-appropriate marketing content for your business in minutes, saving you hours of work each week. No more racking your brain or staring at a blank page. Let AI do the heavy lifting for you!
Create Winning Content Tailored to Your Business in Just 60 Minutes
In my personalized 1-on-1 GPTutor session, you'll discover how to leverage ChatGPT to get quality marketing copy and ideas specific to your business and audience.
GPTutor's personalized sessions helps small business owners write high quality copy in a fraction of the time. By using ChatGPT's personalized prompts, you can save time – and avoid the headache/heartache of staring at a blank screen.
I've worked with a lot of small business owners through the years who 1) didn't have the budgets to outsource their marketing and 2) didn't have the time to do it themselves. ChatGPT makes it possible to solve both the time and budget issues – get quality website copy, emails, and social media created for your business – with minimal time and at a fraction of the cost.
Does it take a little training?
Yes, but that's where I come in!
Make ChatGPT work for you!
In our personalized prompt session, we'll work through the basics of your marketing – what you do or sell, your target audience, and how you're different from the competition. Then you can watch over-my-shoulder as we explore using ChatGPT specifically for your business.
Here's what we'll create together:
Effective prompts for your business
Every business is unique, which is why it's critical to get personalized prompts tailed to your business. We'll review your business goals, target audience, and brand voice, and then create customized prompts tailored specifically to your business. With personalized prompts, you can avoid generic or off-brand content and ensure that your message is communicated effectively to your target audience.
The best social media messages for your audience
ChatGPT's AI technology has been trained to understand the nuances of language and the principles of effective copywriting. This means that the prompts you receive will be laser focused on engaging your target audience with compelling messages that drive conversions.
Ways to save time and money
ChatGPT's ability to generate copy quickly means you don't have to spend hours writing copy yourself or hiring someone to do it for you. Plus, ChatGPT is a great idea generator for when you're stuck on a blank screen!
An increased online presence
In today's digital age, having a strong online presence is crucial for a successful business. Let me show you how to create content with ChatGPT that resonates with your target audience and helps you stand out in a crowded online marketplace.
With GPTutor's 1-to-1 personalized session, you can save time and money on creating effective copy specifically for your business – all while increasing engagement with potential customers – all for only $149!
---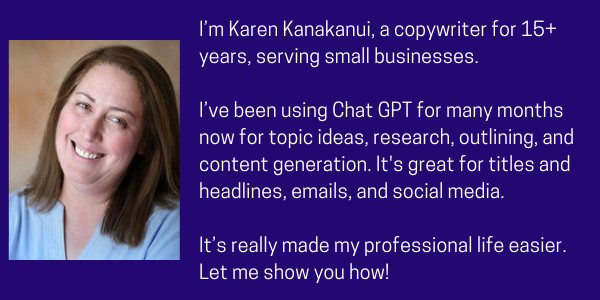 You can read more about my background here.
I've already introduced quite a few business owners to ChatGPT's capabilities! Here's what they said:

As a marketer, I had used ChatGPT quite a bit before having a session with Karen, so I was curious what I'd get out of it. A lot! Karen demonstrated great prompts around what I provided on her intake form, but the real kicker was that she showed me how to be conversational and engage with the tool at a more in-depth level than I had been. I now get much better outputs and use the data for deeper work. [not written by AI!]
Rebekah Rius, Marketing Strategist, Sidecar Marketing Solutions
"I've been using ChatGPT a lot since it came out but I found that I still end up spending a lot of time editing what is created.  I figured her price is very reasonable and if she gave me one tip that saved me time it would be well worth it. Well I got lots of tips!  Just watching how someone else navigates the platform and interacts with it gave me a bunch of new ideas.
On top of that the time was well-spent because we used my examples and my voice so at the end of an hour I had a marketing plan I could take and work from as well!
The nice thing was that Karen allowed my assistant to sit in with us so it saved me time in teaching her, as well.  I felt it was a great investment for my business, plus, she's just lovely to talk with. Thanks Karen!
Pat Williams, cybercletch.com
"I'd spent some time playing around with ChatGPT to get ideas for articles and brainstorm a bit but until my session with Karen, I had no idea how far you could drill into a very specific content need and hone your prompts to get even more and better information. When we were finished, I had a 40-something-page document with all the prompts she used and the resulting content. This shaved days' worth of work (maybe even weeks(?)) off my web copy and content pillar projects.  This was an extraordinarily valuable hour; she really knows her stuff!"
Loree Hollander, Seattle, WA
"Karen's Zoom webinar on using ChatGPT for marketing your small business was wonderful! Karen was not only incredibly knowledgeable about the subject matter, but also had a friendly and approachable demeanor that made the whole experience so enjoyable. Karen is a wonderful teacher and her ideas sparked my creativity and even got me excited about developing my marketing content which admittedly has not been something I've been excited about before!"
Whitney Winslow, LCSW, Durham, NC
"I'd heard a lot about ChatGPT and even messed with creating titles for my brand-new YouTube channel. But I really had no idea what I was doing, or how to use the tool. That's why I jumped at the chance to attend Karen's webinar.  It was such a help to see the different kinds of prompts, and the different ways you can use the tool to both generate content ideas and write rough first drafts of said content, both blog posts and social media. For me, the most valuable part was having Karen use ChatGPT live to generate content specific to my business.  I have a ton of great YouTube ideas now, and I know how to generate more in the future."
Felicity Fields, Tulsa, OK
"Super session! Karen explained what can feel overwhelming in simple, easy to understand terms. The live examples and various discussions also got me amped to explore ways to help simplify my workload with my current book launch promo activities!"
Mich Bondesio, UK, Author of The Cadence Effect
"You answered questions I had, and questions I didn't know yet that I had. Loved the live demonstration, as well. It was interesting to hear how you've approached experimenting with AI, and how you talk to the system to get a collaborative dynamic underway with the system as you work on a particular project."
Jan Richards, Entrepreneur and consultant, San Jose, CA
Here's how it works!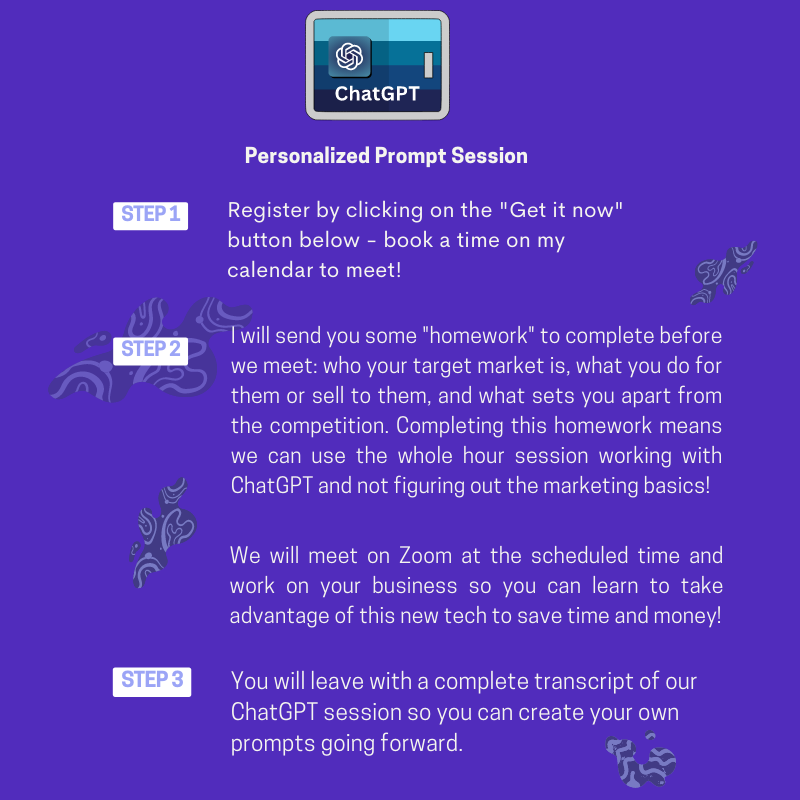 Don't let the blank screen intimidate you any longer – with ChatGPT, you can go from marketing zero to hero in no time.
Sign up for your GPTutor personalized prompt session today and see the results for yourself!